cook with jason
533 Lomas Santa Fe Dr
Solana Beach, CA 92075
714.833.0066
jason@cookwithjason.com
Over the past decade, Chef Jason Roehm has served as a cooking instructor, personal chef and private event caterer. With a Master's degree in Education, he has more than 10 years of teaching experience, working with adults, teens and kids alike. He is committed to working with a community of like-minded individuals, utilizing the best locally sourced ingredients. You can find Chef Jason at the Solana Beach Farmer's Market, Del Mar Farmer's Market and Encinitas Farmer's Market on weekends. Based in North County San Diego, Jason lives in San Elijo Hills with his wife and daughter.
A percentage of proceeds from each class goes directly to the Boys and Girls Club's Center for a Healthy Lifestyle to support the farm to table cooking classes for disadvantaged youth.
Partners
Since the beginning, Temecula Olive Oil Company has been family-owned and operated, committed to using only California olives to make the highest quality olive oil. We practice sustainable agriculture, growing and harvesting a wide variety of olives, which we hand press using traditional methods to produce fresh, full-flavored extra virgin olive oil. Please visit our original retail store and tasting room in the heart of Old Town Temecula, Old Town San Diego, Solana Beach and Seal Beach.
Culture Brewing Co's modern and rustic microbrewery is the ideal showcase for their beer. The on-site Brewhouse is equipped with a 10 barrel Premier Stainless System including a boil kettle, mash tun, 5 fermenters and 3 brite/serving tanks that can be seen from the on-site tasting room through large glass paned windows. Located on-site at the Solana Beach tasting room, the brewery offers a unique experience for beer seekers to see "where (and sometimes if you're lucky, how) it's made". Visit www.culturebrewingco.com.
Award-winning Carruth Cellars makes wine with grapes sourced from northern and central California wine country. With much Love & Gratitude for the growers and appellations of one of the world's finest wine regions, Carruth Cellars makes all the wine on site, in their Solana Beach facility. Visit www.carruthcellars.com.
THE CENTER FOR A HEALTHY LIFESTYLE
The Center for a Healthy Lifestyle's mission is to encourage children and adults to make good decisions for their own health and the well being of the planet. Cook with Jason is honored to offer cooking classes and events at the Center for a Healthy Lifestyle in Solana Beach and Encinitas. Jason also serves as a cooking instructor for the CHL's camps for kids. For more information, visit www.centerforahealthylifestyle.org.
"The message delivered by Chef Jason is spot on. Know what you're eating, get as much as you can from the garden or local farm, and it's not THAT difficult to make food chef-worthy food." — Vin T, Carlsbad
"While the food was great at this event, what really stood out to me today was the passion. Jason infused his personality and sense of humor into the entire day and each and every vendor was a pleasure to meet and have the opportunity to get to experience their products. Basically, best. day. ever." – Julia W., Carlsbad
"Chef Jason hopes that through these culinary adventures that people would live and love the farm to table methodology of cooking and eating. Tonight we did this by way of fresh seafood, local produce and other ingredients. This helps to make our environment better and hopefully better our hearts, bodies, health, and mind. Not to mention be a part of the community. Chef demonstrated how to shuck oysters, steam mussels, and barbecue beer infused oysters. Informative and delicious." –Tanya D., Carlsbad
"I loved his big heart and his passion. He CAN cook...the food was delicious, and making part of the dinner was a lot of fun! We learned a TON!" – Steven J., Poway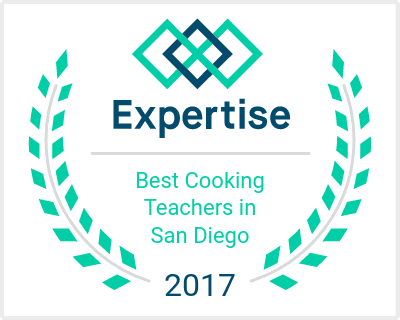 "He has a genuine dedication to sharing his passion with like-minded community members who are looking for healthy and delicious meals that feature locally-sourced foods and ingredients." — Expertise 2017 - Named #3 Best Cooking Teachers in San Diego
"The final product was FANTASTIC. Maybe I don't eat eggplant chicken parm often but this was THE BEST version I've ever had. The chicken breast tasted succulent, moist, tender and so incredibly flavorful smothered with the homemade red sauce we made earlier..." — Faye's Fork
"Cook with Jason is a one-of-a-kind "foodventure" that combines a local farmers market, tastings, a hands-on cooking lesson, humor, and of course, a passion for cooking up simple and nutritious meals. — Natalie Neece Out-and-About
"I really enjoyed the multi-course family style dinner along with the wine pairing. It was definitely a fun afternoon meeting awesome people and learning new cooking tips. " — Princess Purpley